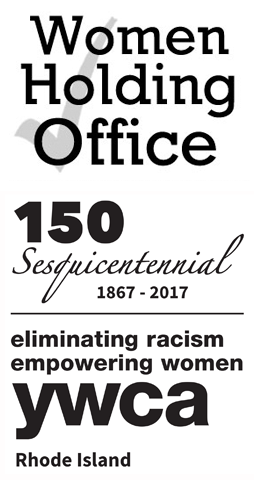 Women Holding Office
8th annual celebration
when: Monday, May 8, 2017, 6-8pm
Women Holding Office Recognition and Isabelle Ahearn O'Neill Awards
where: Kirkbrae Country Club, Lincoln, RI
reception
complimentary hors d'oeuvres
cash bar
tickets: $25
purchase tickets online below
must be reserved in advance / seating limited
contact: YWCA Rhode Island
email [email protected] or call 401-351-2241
keynote speaker: Julia S. Jordan-Zachery
Director of Black Studies, Professor of Public and Community Service Studies, Providence College
Julia S. Jordan-Zachery is professor of Public and Community Service and director of the Black Studies Program at Providence College. Her interdisciplinary research focuses on African American women and public policy. She is also the author of the award winning book "Black women, cultural images and social policy" (2009 Routledge). Jordan-Zachery was recently award the Accinno Teaching Award, Providence College (2016-2017). Jordan-Zachery strives to bring intersectionality to a wider audience via her blog, Sapphire Unbound. Sapphire Unbound explores the lived realities of Black women and seeks to challenge the invisibility of Black women in policy and politics.
honorees
Gayle Goldin, State Senator
Marcia Ranglin-Vassell, State Representative
Sabina Matos, City Councilwoman
Please note: After you hit "submit", you'll be redirected to a page where you will complete your payment. If you are not redirected, or have any problems completing your payment, please contact us at [email protected] or call 401-351-2241.